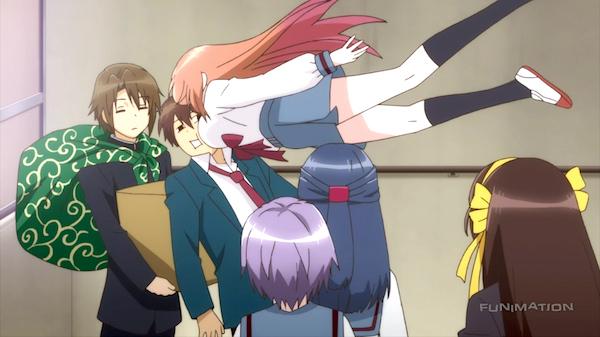 The Disappearance of Nagato Yuki-chan episode 6
Haruhi is planning something. We find out this episode that she got permission to come to North High for club activities. This shocked everyone but Haruhi insists she told Yuki. And she did but Yuki wasn't paying any attention. Yuki really needs to improve her communication abilities. This episode is pretty jumpy so about three different stories happen. I'm not going to talk about the other two because they're more interesting to watch than read about. The important thing to note is that Haruhi is fully setting up base now. She even has Koizumi bring the desk from the mother series into the Literature Club room. The episode ends with her placing her 'executive president' sign on the desk and announcing they'll be having a training camp. Haruhi swears she told Yuki.
Kyoukai no Rinne episode 6
This week's episode follows some missing kids who were kidnapped by cat monsters. Yep. That's the plot. I promise it is a lot more interesting than it sounds and for once Jumonji comes in handy. As each episode passes I come to enjoy Rinne and Sakura as characters more and more. I probably say this a lot but I really do. I'm not sure how I feel about Jumonji but he's improving. In general I'm still trying to figure out where this show is going but there was a glimmer of story hope at the end where we see the Rinne look alike from the opening. I do believe that man is Rinne's father so the story is bound to get more interesting when he finally shows up.
My Love Story!! episode 6
We finally learn what had Yamato all in a fluster. She wants to hold hands, and kiss, and cuddle. In essence she is perfectly normal but has herself convinced that these things will make Takeo see her as not pure and want to break up. We also learn that she left her phone at Takeo's house on purpose so she had a reason to see him again which is kinda adorable. She had no ill will here and if Takeo had ever said he didn't want to see her again she would have left him alone. Considering all that it's cute. It also shows Takeo that she really cares. Takeo doesn't really need these little encouragements to keep their relationship stable but I feel he does need them in order to reassure him that people care about him. Sometimes it feels like Takeo thinks he isn't that important to the world when in reality he helps so many people that the world would be much worse without him. All in all it was cute just like every episode before and every episode after will probably be.
Seraph of the End episode 6
The precious cinnamon roll Yoichi is in trouble this episode as the three go off against demons. Kimizuki comes out first, followed by Yuuichiro, and lastly Yoichi gets possessed by a demon. Wait. That's not good. Guren tells Kimizuki and Yuuichiro to kill Yoichi but Yuuichiro refuses. It's almost like he's learning what it's like to have friends and doesn't want to kill them. Impressive, right? Maybe, maybe not. Through the power of friendship Yoichi is saved. It's close to the cutest thing in the world too. Once Yoichi wakes up from his possession he starts crying and tackle hugs Yuuichiro. And to his credit, Yuuichiro accepts the hug. Adorable. (No really, it's cute.)
Seraph of the End started its broadcast dub this week. Yuuichiro himself is being played by Micah Solusod (You may know him as Toma in the Index franchise, Soul from Soul Eater, or Bea from Space Dandy). Mika is being played by Justin Briner, whom I looked up and this appears to be his second role, ever. Both sounded okay during this episode but they were also playing 12 year-olds. I personally cannot wait to hear Solusod get to do angsty teen voice for Yuuichiro, I expect it to be great. The only other voice I find it important to tell you about right now is sassy boots (Ferid) who is being played by Eric Vale. It had its good moments and it's alright moments. We shall see how good it really is as the show progresses.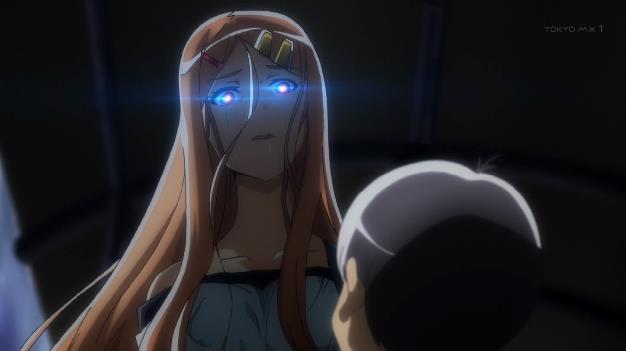 Plastic Memories episodes 5-6
Things did not turn out so well in Plastic Memories episode 5. Coming off of the cliffhanger from last week we see Marcia getting kidnapped by a black market retriever. I wish they had addressed why black market retrievers were even a thing but I'll let the slide. The group goes all out trying to find Marcia before her lifespan is up and she turns into a Wanderer. They do throw in a little more information on why Wanderers are so bad; their power limiters a off once their lifespan is up and without this they are apparently strong enough to lift a car.
R Security is hired by SAI Corp to apprehend the black market retrievers and Marcia. There's a lot of tension between the terminal services group and the R Security group. We find out that R Security was hired to destroy Michiru's Dad three years ago when he turned into a Wanderer. During the commotion Kazuki (Isla's former partner) had her leg crushed by Michiru's Dad when he went berserk. She now has a prosthetic. The wound from this day runs deep in the group and Kazuki even uses the situation to get R Security to agree to work with them (The leader of the R Security group was also present during the situation with Michiru's dad). Marica is unable to be successfully retrieved and ends up being destroyed by a special gun given to spotters. The gun transmits a virus to the Giftia that erases their data making it effective only on androids and no one else.
Episode 6 is more of a resting episode after this one. A lot of it is spent on Isla who is in maintenance. Isla is extremely confused about how Tsukasa can go on smiling even after such a sad event. Isla seems to think that Tsukasa has forgotten the event. Michiru informs her that this is incorrect. In reality Tsukasa is distressed about it and seems to be smiling more out of sadness than anything else. The episode ends when someone finally tells Tsukasa that Isla only has about 1,000 hours left.
Food Wars episodes 5-6
I feel like I say this frequently but I'm really enjoying this. If there wasn't as much fanservice it would be even better. I'm enjoying a lot of the characters (not all mind you) and Soma is what makes a lot of this enjoyable. He's surprisingly normal for a character in this show. In these two episodes we learned all about how you become a member to the Elite 10 or really do anything in this academy. The answer is Shokugeki, which is basically Iron Chef but with super high stakes. In order to participate you need three judges, a bet, and the agreement of both parties. The bet must be of equal value. Satoshi informs us that Soma's expulsion isn't even close to worth the amount his seventh seat has.
In episode six Soma looks for a club to join and goes to look at the Don Research Society. I guess don are the bowl foods? But really this is only based on what happens in the episode but I'm pretty sure that's right. Like the ones the sell for cheap in stores. That kind of thing. However the Don RS is about to be cut from the school because Erina doesn't believe it's worthy of being at the school. In order to get rid of it she has sent this girl who specializes in meat. Yeah, that's a real thing. She challenges the club president to a Shokugeki. By the end of the episode though Soma has taken up his challenge and intends to beat her using the clubs specialty: dons.
Show By Rock!! episode 6
When this episode first started I thought it was going to ignore the end of last episode. Thankfully it went backwards and finished the story out. Strawberry Heart comes to Cyan's rescue and fills in everyone about what has happened (minus Retoree). Turns out President Maple and his assistant were aware the entire time. I totally called this when we learned he used to work for the other agency.
Because why else, the group goes on a training camp in order to make a new song for a festival. I don't really remember what it is but it is important and they want to do well. A great moment in this episode came from Shingan Crimsonz (I won't lie, I love them). They got lost on the way to the camp and stranded in a forest. Eventually they are discovered by a hunter that looks like President Maple. Rom goes office worker on the situation even going so far as slicking back his hair. He manages to work the situation out but I spent the entire scene laughing. I couldn't take it seriously. It was great. Plasmagica do make up by the end of the episode and Moa tells everyone that she's an alien. I was impressed they did it. I'm interested in how things are going to go.
Blood Blockade Battlefront episode 1
Ok so Alyssa and I decided to pick this show up after it was announced for Broadcast dub. I won't lie most of it was because Aaron Dismuke was cast as one of the main characters. I had heard the show could be information overload in Japanese so I was happy to watch it in English. I haven't seen the show in Japanese but I think the cast is pretty good. Nothing sounded terrible but I suppose I can't give a final opinion until I watch it in Japanese.
As for the show itself it was crazy. There was this kid named Leo who got his camera stolen by a monkey which led him right in the middle of a bank robbery. He manages to not die from that but lands himself in front of a man by the name of Zapp. Zapp (played by Ian Sinclair) mistakes Leo for someone and takes him to the offices of Libra. Libra works to keep the peace, I guess, however today they are trying to stop a crazy plan by an even crazier guy who calls himself the King of Depravity. With a name like that you don't need to ask if he's sane. You know the answer is yes. I'm not going to spoil the rest of the episode, because I think you should watch it, but I will say that I really enjoyed the show. It feels familiar and fresh. Those statements may be contradictory but I think that's the best way I can describe it.